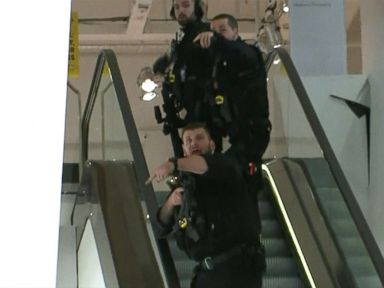 Reports of gunfire sparked panic and a stampede on Oxford Street in Central London Friday.
People were seen fleeing the Oxford Circus Tube station, taking shelter in nearby buildings and holding each other as police descended on the area to respond to the reports.
Authorities remain at the scene, but thus far there is no evidence of shots fired, Metropolitan Police tweeted.
Ian Pannell, ABC News' senior foreign correspondent, was on the scene at Oxford Street when the chaos erupted. At first, he couldn't understand what he was hearing. He left the store he was in to investigate and saw a stampede of panicked people coming toward him. He ducked back inside the store with his family to stay safe.
People were heard screaming and shouting as they ran, tripping and falling over each other in sheer terror. One woman sustained a minor injury in the rush, police said.
Oxford Street is one the busiest shopping centers in London, comparable to New York City's Times Square. The stores in the area immediately shuttered their doors to keep people safe from the commotion.
Officers seem to have the area under control now and the station is in the process of reopening.
Police are looking into what led people to flee the station.